Product feeds can be a convenient way to populate your affiliate site with products from various merchants. But are you aware that the product data merchants provide in their product feeds can harm your website more than you think? As an affiliate, it's essential to understand the implications of using product feeds and how you can avoid them.
1: Three issues when using product feeds
In 2020, we wrote
this blog post
examining three major issues that arise from using product feeds and how they have an effect on user experience and SEO. Let's briefly summarize:
Thin content
. Merchants often provide product descriptions that are just a few dozen words, incomplete, or in extreme cases, completely missing. So, you may end up with product pages that are essentially content skeletons, barely holding up their purpose. Such pages negatively impact the user experience and, as a result, may decrease your website's overall quality score, which can ultimately affect your search engine rankings.
Duplicate content
. As an affiliate marketer you're not alone in this game. Other affiliates just like you are relying on the very same product feeds, resulting in multiple websites, all carrying the same cargo of product knowledge. If your product descriptions are identical to your competitors', potential customers and search engines will have no reason to choose you over them.
Boring boilerplate copy
. If you're relying on the standard manufacturer descriptions found in product feeds, chances are they're not as engaging as they could be. Let's be honest, no one wants to read a long, boring product description that feels like it's been copied and pasted from an instruction manual. Your visitors don't want a laundry list of technical jargon; they want rich, interesting copy that they can connect with.
As a savvy marketer, it's your job to make your product pages shine for both your visitors and search engines. That's why it's essential to rewrite merchant's product descriptions in a way that will grab the attention of your visitors and to ensure your website remains visible and competitive in the search engines.
But that's easier said than done, especially if you're not a skilled writer! Managing content has always been a challenging task, requiring significant time and effort to ensure that your content is up-to-date, relevant, and engaging. Or a lot of money to get the job done for you.
Fast forward to 2023. There's now a
third option
... without having to spend countless hours on manually rewriting product descriptions, agonizing over every adjective and wrestling with writers' block. Or without having to empty your pockets to hire expensive writers to craft these compelling product descriptions for you.
2: Artificial Intelligence (AI) to the rescue!
Thanks to the rise of Artificial Intelligence (AI), you can now have the best of two worlds: do it yourself while outsourcing the heavy lifting to an AI writing assistant.
Remember back in November 2022? No? Well, it was around that time when
OpenAI
introduced its game-changing ChatGPT, an AI-based tool that quickly garnered attention across the globe. Suddenly, people like you and me found themselves with a shiny new tool that made content creation genuinely exciting and cost-effective.
Since ChatGPT's introduction, it's amazing to see how quickly the world of AI development is progressing. So it was only a matter of time before the first WordPress plugins would jump on the AI bandwagon. After much anticipation, Elementor, which is among the most commonly used WordPress page builders, introduced its newest iteration -
Elementor AI
.
3: What exactly is Elementor AI?
Elementor AI
is the first website builder for WordPress to offer AI functionality. You can now build and maintain your WordPress website in a fraction of the time and effort it used to take. Elementor AI is natively integrated within Elementor, making it convenient to use without switching between different tools.
Currently Elementor AI includes two AI-powered assistants:
Elementor AI's Writing Assistant allows you to create original copy for your website within seconds, refine existing content and even translate your content into any language. Now it's easier than ever to maintain a consistent tone and style across your website, ensuring that your content matches your website's voice.


With the AI-powered Code Assistant, you can now easily modify the design of your website too without writing a single line of code. Based on your input the tool generates custom HTML snippets and if you're an Elementor Pro user you can even create custom CSS and custom code snippets for your site.
4: Let's try Elementor AI's Writing Assistant!
As soon as we heard about this new feature we wanted to test
Elementor AI
on the demo site we built to
review the Shoptimizer WooCommerce theme
. As Shoptimizer utilizes Elementor as page builder, Elementor came pre-installed with the installation of the theme.
Let's see how Elementor AI works and how it can effortlessly generate exceptional and engaging copy in mere minutes. Hard to believe? You don't need to take our word for it. It's time to see for yourself!
Step 1: Prevent that your changes get overwritten!
Because we're going to edit product descriptions imported by the
Datafeedr WooCommerce Importer plugin
we need to make sure that our changes don't get overwritten during the next product set updates and replaced again with the original product feed descriptions! So make sure you
apply these instructions
to prevent this from happening.
Step 2: Upgrade Elementor to version 3.13 or higher
Make sure you run Elementor plugin version 3.13 or higher. Upgrade if needed. Now you're all set to
start using Elementor's AI-powered writing capabilities
. As part of the free trial, you have a limited amount of free generated content. Once you reach your quota of free content, you can purchase an AI subscription to continue utilizing Elementor's AI capabilities.
Step 3: Enable Elementor for product pages
Make sure Elementor is enabled for "Products" in WordPress admin > Elementor > Settings > Post Types so you're able to edit product pages in Elementor.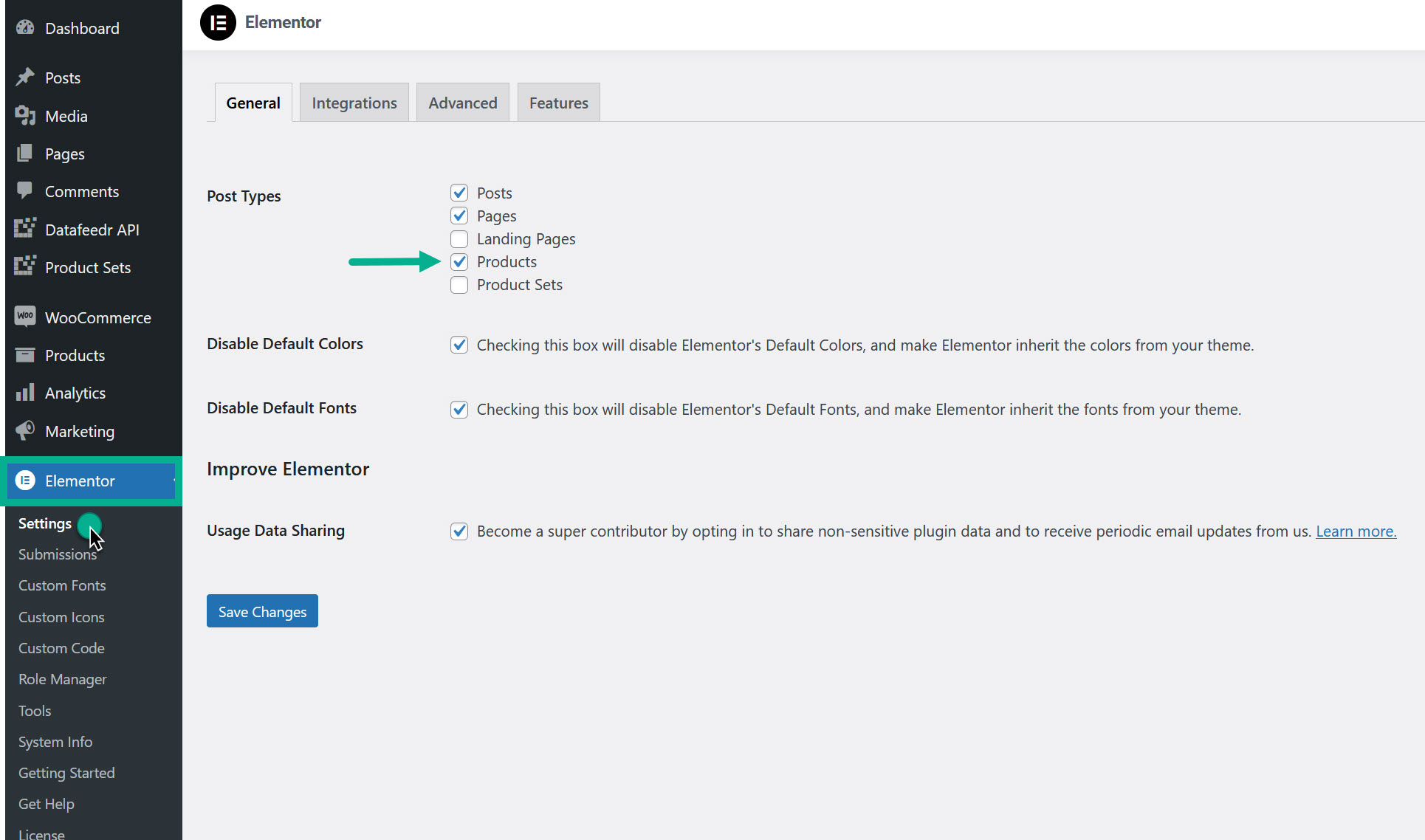 Step 4: Open a product page with Elementor
Now search the product you want to edit In WordPress admin > Products. Open the product in edit mode and click the "
Edit with Elementor
" button. The product page will now appear in Elementor mode.

Step 5: Select the product description field
Select the product description field (or any other text field you want to edit). Elementor's text editor will now open. Click the "
Write with AI
" icon located above the Elementor text editor. This will launch the Writing Assistant.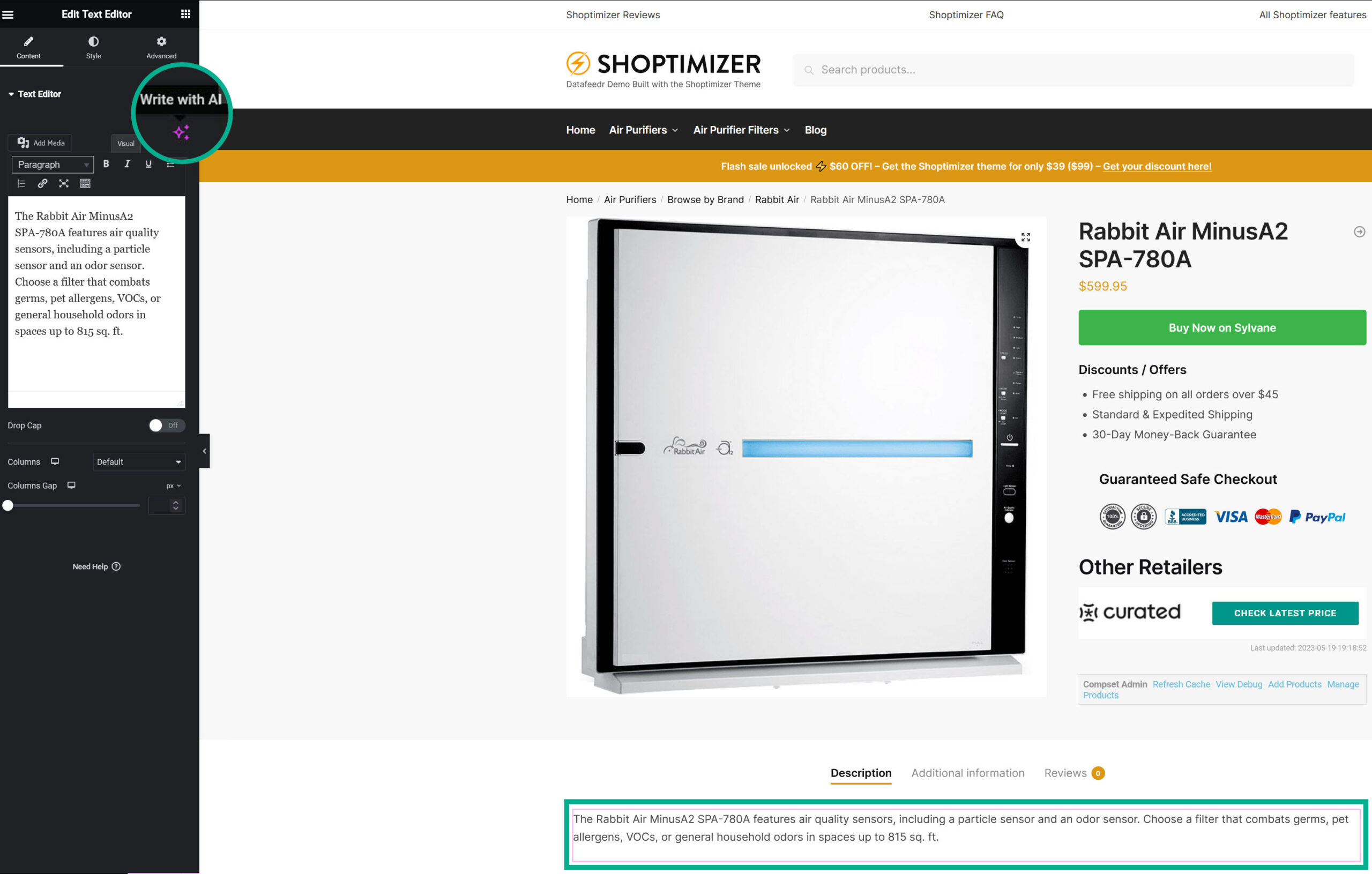 Step 6: Let the fun begin!
Let's move on to the exciting part! The Writing Assistant is pretty self-explanatory but if needed, you can find a
series of Elementor AI articles
in Elementor's Help Center.
You can start with the existing description as basis, choose a tone in the "
Change tone
" dropdown and let Elementor AI do its magic and generate a first draft. Not happy with the result? Play around with the other tones, make the description longer, shorter or simplify it. Edit and enhance with your personal touch.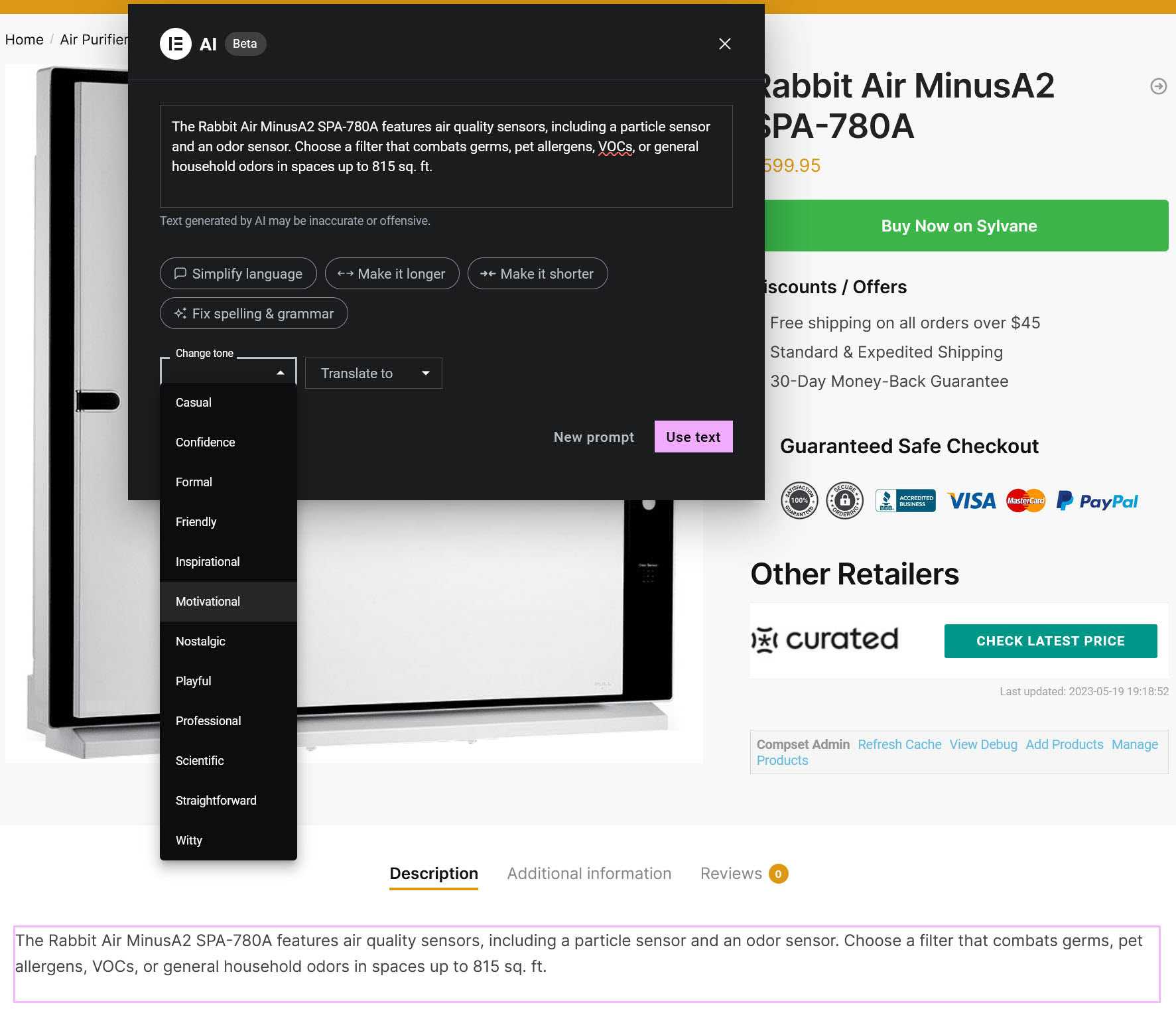 You can also choose to start from scratch and add your own instructions aka "prompt" by clicking the "
New prompt
" button. Choose from the list of prompt suggestions or enter your own instructions in the text field, then click the "
Generate text
" button.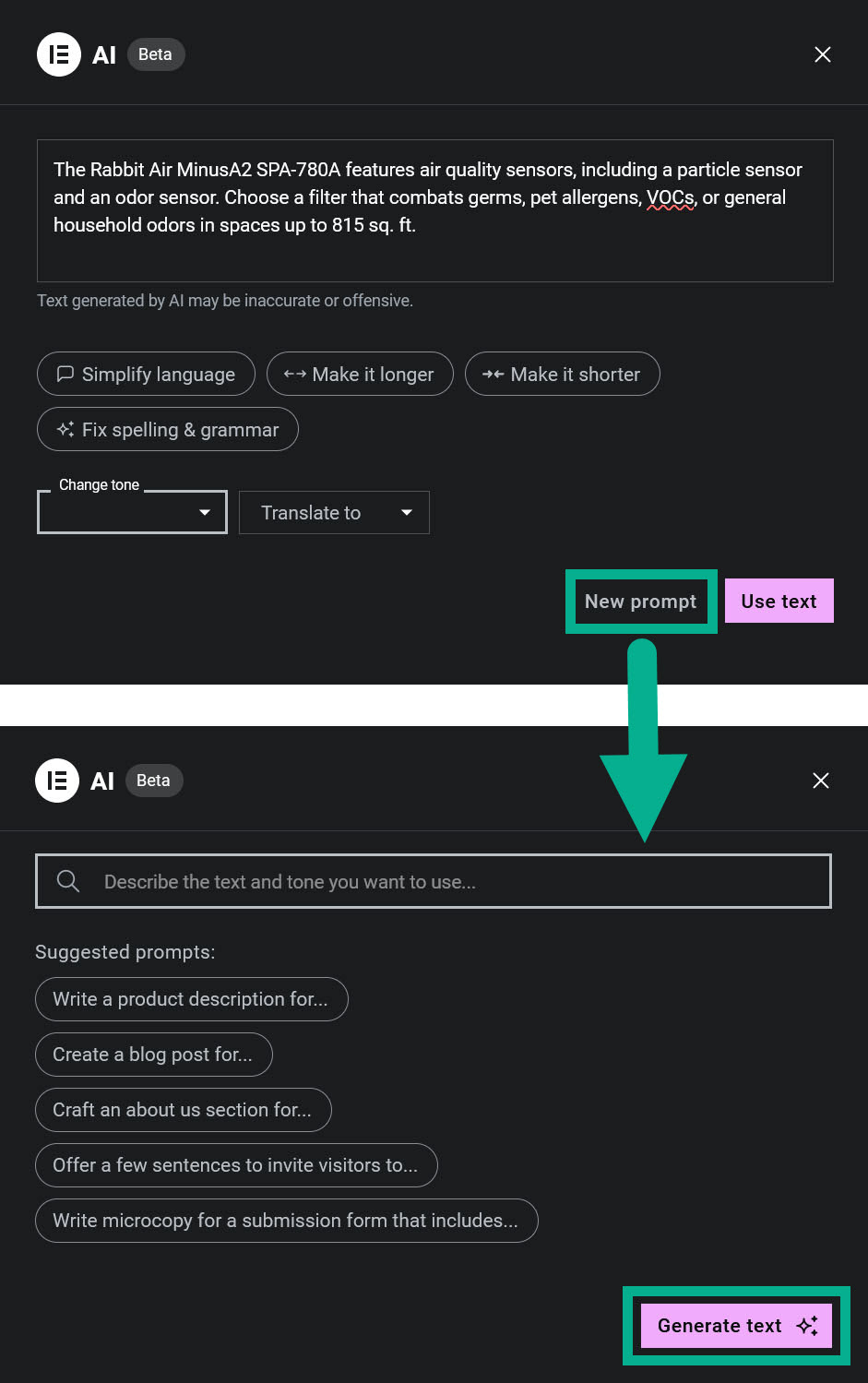 After Elementor AI has done its magic, you will be redirected to the original screen again where you can further fine-tune the result. Happy about the result? Click the "
Use text
" button and your brand new description will be pasted in the description field. Don't forget to save your new description by clicking the "
Update
" button in the Elementor editor. How easy and much more fun was that!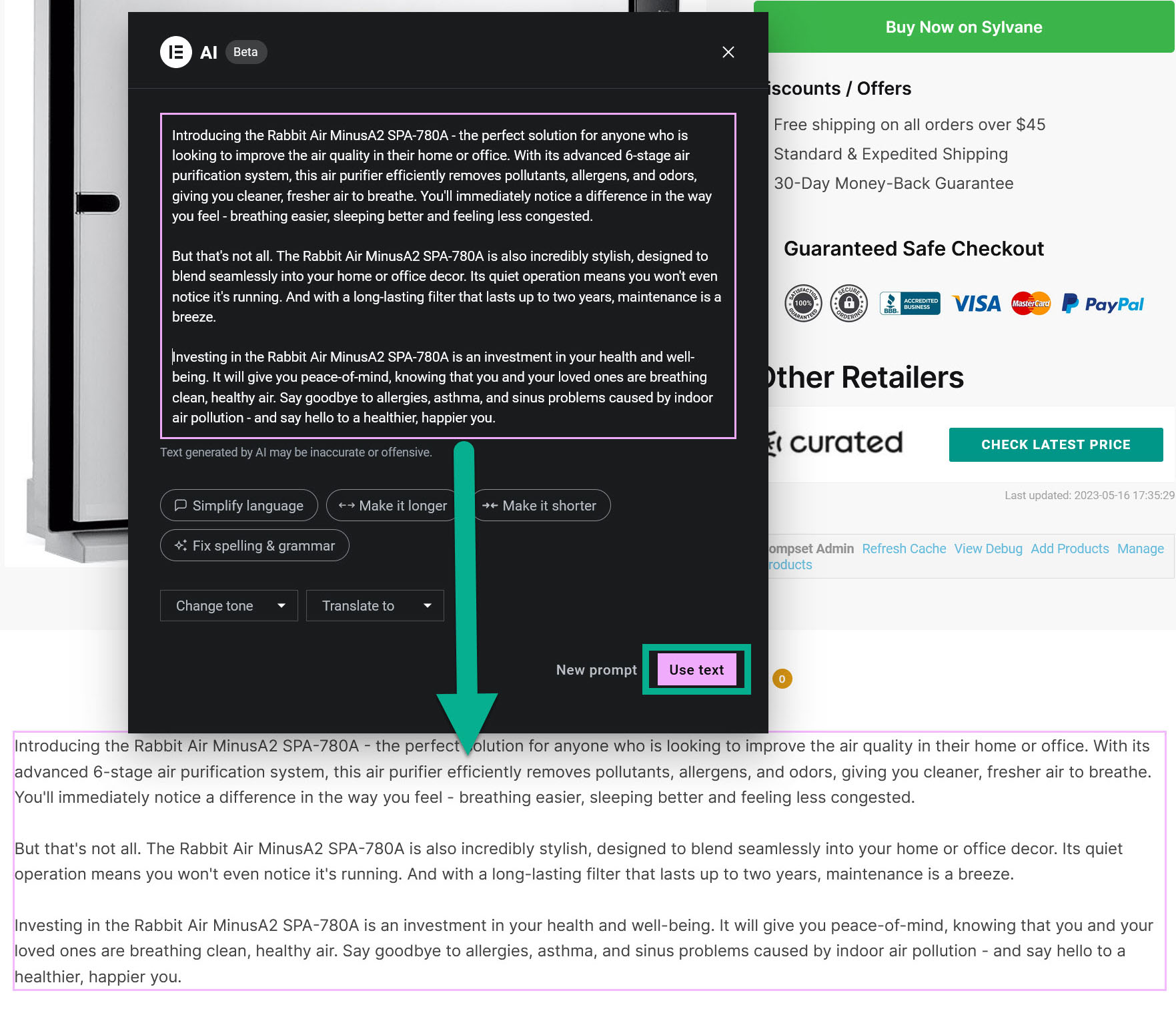 4: Examples
Curious to see some of the descriptions Elementor AI generated for one of the products on our demo site? This is the original merchant's description straight from a merchant's product feed for the Rabbit Air MinusA2 SPA-780A air purifier: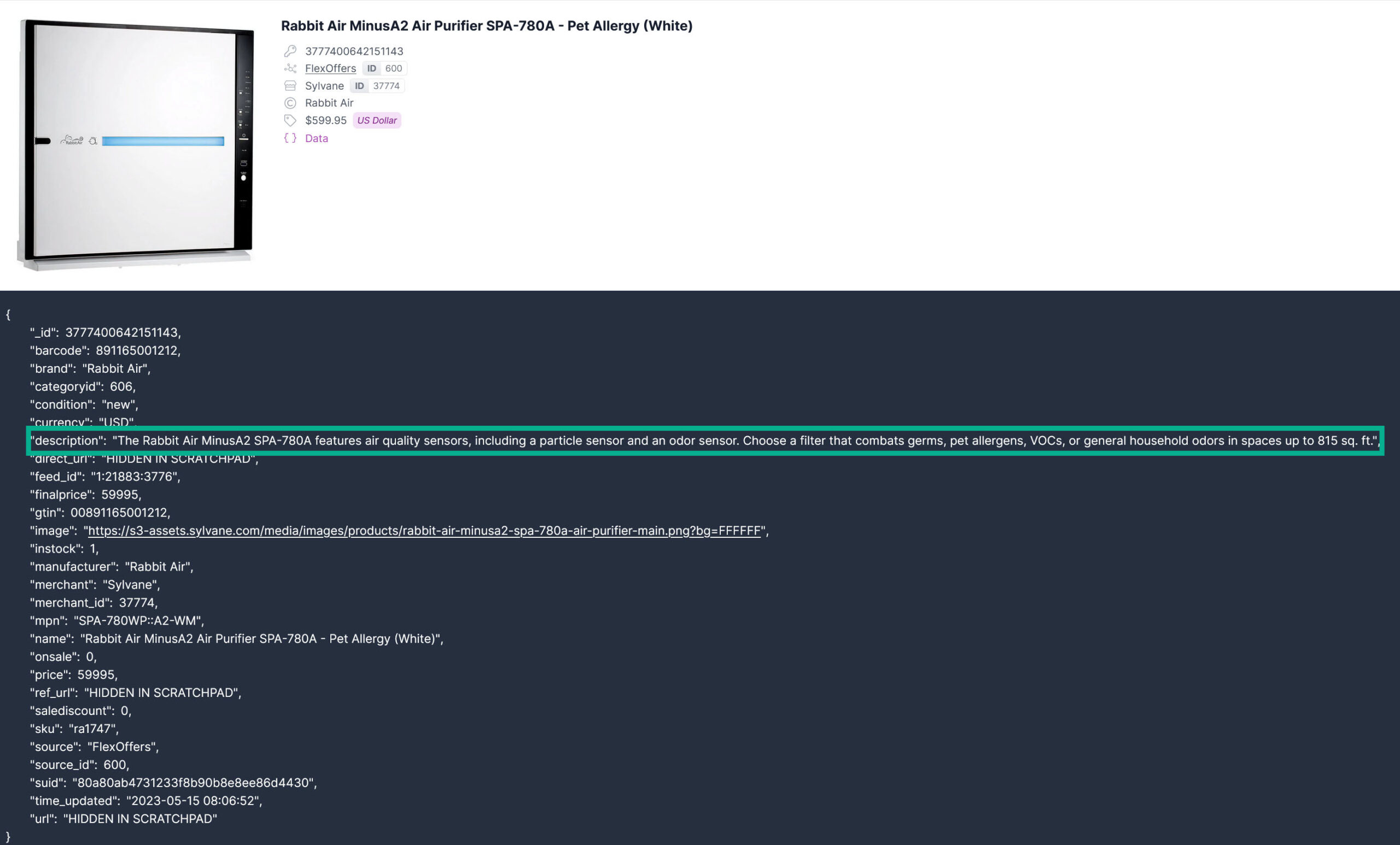 "
The Rabbit Air MinusA2 SPA-780A features air quality sensors, including a particle sensor and an odor sensor. Choose a filter that combats germs, pet allergens, VOCs, or general household odors in spaces up to 815 sq. ft.
"
Here are some alternative descriptions written with the help of Elementor AI:
description 1
"
Introducing the Rabbit Air MinusA2 SPA-780A - the perfect solution for anyone who is looking to improve the air quality in their home or office. With its advanced 6-stage air purification system, this air purifier efficiently removes pollutants, allergens, and odors, giving you cleaner, fresher air to breathe. You'll immediately notice a difference in the way you feel - breathing easier, sleeping better and feeling less congested.
But that's not all. The SPA-780A is also incredibly stylish, designed to blend seamlessly into your home or office decor. Its quiet operation means you won't even notice it's running. And with a long-lasting filter that lasts up to two years, maintenance is a breeze.
Investing in this air purifier is an investment in your health and well-being. It will give you peace-of-mind, knowing that you and your loved ones are breathing clean, healthy air. Say goodbye to allergies, asthma, and sinus problems caused by indoor air pollution - and say hello to a healthier, happier you."
Or what about this one:
description 2
"
Introducing the rabbit Air MinusA2 SPA-780A - the superhero of air purifiers for all your home or office air quality woes. This 6-stage air-purifying genius will make your air clean and fresh by getting rid of pollutants, allergens, and not-so-pleasant odors. Trust me; you'll feel the difference in no time - easier breathing, better sleep, and bye-bye congestion!
Oh, did I mention the SPA-780A is not just a practical choice but super stylish too? It blends right in with your decor like a chameleon, and its silent technology means you won't even realize it's working hard to make your indoor air a heaven to breathe. Plus, its filter lasts up to two years, so it's maintenance-free!
Get yourself a gift that keeps giving - the Rabbit Air MinusA2 SPA-780A. With clean air, you'll always feel at your best, and your loved ones will too. Say goodbye to allergy troubles and sinus problems - cheers to a healthier and happier home!"
Or this one:
description 3
"
Looking for an air purifier that's more powerful than your everyday superhero? Look no further than the Rabbit Air MinusA2 SPA-780A! This air-purifying powerhouse will knock out pollutants, allergens, and unwanted odors like they're nothing. And the best part? You'll feel the difference in no time! Your breathing will be easier, your sleep will be better, and your congestion will disappear faster than a speeding bullet.
But don't let its serious air-cleaning abilities fool you - the SPA-780A also has serious style. It's like a chameleon, blending right in with your decor. And thanks to its silent technology, it won't make a peep while it's working hard to clean up your indoor air.
And get this - its filter lasts up to two years, so it's basically maintenance-free. Talk about a gift that keeps on giving! Say goodbye to allergy troubles and sinus problems and hello to a healthier and happier home. The Rabbit Air MinusA2 SPA-780A has got you covered!"
Another one because it's so fun :)
description 4
"
Are you tired of constantly breathing in allergens and pollutants in your home? Look no further than the Rabbit Air MinusA2 SPA-780A air purifier.
With its advanced six-stage filtration system, this air purifier is designed to rid your home of airborne contaminants, from pet dander to mold spores. The sleek and modern design of the SPA-780A ensures that it won't detract from the aesthetics of your home, while the quiet operation makes it perfect for bedrooms or living areas.
Plus, with its customizable filter, you can choose the filter that best suits your home's needs, making it a versatile and practical choice. Get the clean and fresh air you deserve with the Rabbit Air MinusA2 SPA-780A air purifier."
You see your options are limitless! Got excited too? :)
5: To sum it up...
You no longer have to stress about having thin, duplicate and boring content on your website! You can now crank content out like nobody's business. Say goodbye to the endless hours spent on manual rewriting, and embrace the convenience brought by Artificial Intelligence.
Of course, you can use any AI writing tool out there but we love Elementor AI so much because it's natively integrated within Elementor, meaning you don't have to go back and forth between the Editor and another AI writing assistant. Everything can be accomplished without leaving the WordPress admin area.
Give Elementor AI a try today
and see just how much of a difference this cutting-edge technology can make for your affiliate site. Then let's raise a toast to your new content creation prowess, and don't forget to enjoy your extra free time! Cheers!